History of LHS
October 11, 2021 — Lawrence High School has a rich and proud heritage. Its history is one of excellence in academics and extracurricular activities.
HERE to download a pdf of "The History of Lawrence High School" from the Lawrence High School Web site.
Marjorie Anne Fischer Dozier 1943-2021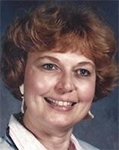 October 4, 2021 — Marjorie Anne Fischer Dozier passed away on August 23, 2021. She was a kindergarten teacher for 32 years.
HERE for her obituary.
Elaine Hickock Rogers 1943-2021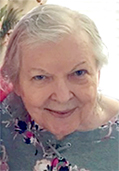 September 16, 2021 — Elaine Hickock Rogers passed away on September 8,2021. Our sympathies go out to her husband Bill, five children, 16 grand children, and 14 great-grand children.

HERE for her obituary.
60th Reunion Canceled
August 26, 2021 — First of all, thank you so much for those who responded to the Reunion Letter. The response was very light. We have decided that this is not the right time to have the reunion. Hopefully, we can reschedule the reunion for as early as next spring. In the mean time, if you want to come to Lawrence in the future and want a little "meet and greet", let me know and I can probably arrange it. — Rich Noever
Fred Booth Bramble 1943-2021

July 27, 2021 — I have sad news. Fred died July 11, 2021, in Tulsa, Okla. His burial was July 15. There will be a memorial service this fall in Tulsa. He's survived by wife, Barbara; sons David (Melissa), Matthew and Sean; brother John; sisters Mary and Ruth; and two grandchildren, Kyle and Olivia. — Ruth Bramble Humphrey
HERE for his obituary.
Robert "Bob" Shenk 1943-2021

March 2 2021 — Sorry to report that Bob  passed away on Jan. 30, 2021 in New Orleans. Our sympathies go out to Bob's family.
HERE for his obituary.
Photo From Our 50th Reunion
Jan. 29, 2020 — More photos can be found at the "Reunions" tab above.
Start with bottom row:
Jane Tustin, Fred Bramble, Mary Kay Dunlap Lanning, Linda Garcia Rice, Susan Ulmer Snyderman, WynneGoff Brochu, Becky McArthur McMillen, Evelyn Fearing Dvorak, Jim Kring
Jan Loofborrow Richardson, Karen Groh Tesla, Patricia Nease Dix, Grace Roberman Ellis, Bennie Ruth Grewing Gilbert, Sandra Hayes Shawhan, Byron Leonard
Diane Lefholz Kennedy, Rudy Oberzan (Deceased), Roger Underwood, Richard Calvert (Deceased), Connie Carlson Dewey, Gary Knight,
Glen Elliott, Kathe White Alkoudsi, Kathy Dennis Donatelli, Sharon Moon Peine, Linda Midyett Campbell,
Suzanne Mills, Janet Heck Kittlaus, Carol Olson Gardinier,
Sam Garland, Judy Mckinney Pierson, Bob Asher, Larry Colburn, Andy Boyd (Deceased), Larry Stemmerman,
Bernard Kennedy, Luey Bornheim (Deceased), Martin Owens Brian Schweda, Duane Rice, Sam Pugh, Ken Hopkins, Judith Nelson Greer,
Dede Allen Dresser, Carolyn Rogers Buchanan, Joe Oberzan, Cathy Bowman Shuck, Robbie Johnson, Cathy Houk Shook, Judy Dennis Gardner, Patty Palmateer Horton, Norman Puckett, Carol Lemon Burnett, Dale Schneider,
Rich Noever, Joan Oswald Crow, Sanda Smith Crandall, Pat Rappard Linnhoff, Bob Duver, Linda Dehoff Ingalls,
Linda Patterson Harding, Roland Bell, Beck y Frakes Hermann, Patty Atkinson Supancic, Martha White, Judy Kleinberg Harmony, George Osborne
Robert Kimball, Bob Morgan, Gene Shaughnessy, Frank Molby, David Steele (Deceased), Bill Merkel (Deceased), Fred Hartman, Stan Hanson, David Burnett, Jerry Thomas, Carol Rose, Jack Mahoney, Duane Vann

Memory book

Just a reminder that we have the books available. Cost is $10 (includes shipping). Make checks payable to LHS Class of 1961. Mail to Bob Duver, 1256 North 900 Rd., Lawrence, KS 66047.

Photos from the Reunion: Saturday Night


Roger Underwood on left, Andy Boyd on the right.

Photos from the Reunion: Tour of Cordley
Ward Russell now retired from filmmaking career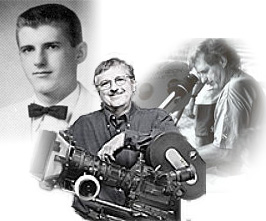 Nov. 19, 2015 — Our classmate Ward Russell worked in film for over 30 years. Among the directors he collaborated with are Tony Scott and Tim Burton. His film work includes 'Days of Thunder' and 'The Last Boy Scout'. He now lives in Santa Fe, New Mexico where he specializes in still photography.
HERE for an article from 2010 about his film career.
Class of '61 Lady's Breakfast Group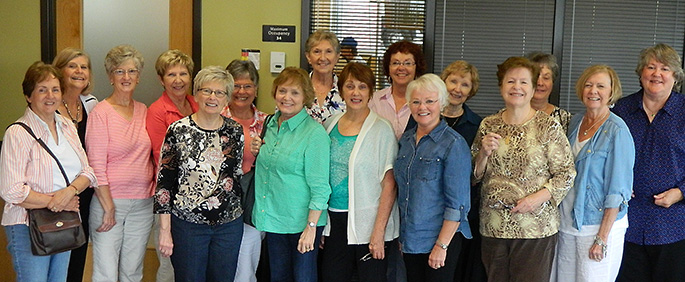 Front Row: LeeAnn Duver (Bob Duver's Wife), Louise Herschel Howard, Linda Patterson Harding, DeDe Allen Dresser, Judy Dennis Gardner, Linda Midyett Campbell, Kathy White Alkouski, Karen Kerr Horne. Back Row: Linda DeHoff Ingalls, Phyllis Anderson Norris, Becky McArthur McMilllan, Sandra Kelley Reed, Kathy Houk Shook, Vicki Emick Howell, Patty Atkinson Supancic, Carol Olson Gardiner/Winters.
We had a total of 19 attend. We were so pleased to have LeeAnn Duver join us — she has been such a gracious hostess to our class.  Two had to leave so aren't in picture. They are Helen Babbitt O'Trimble & Carol Rose. Several responded that couldn't come so we read their responses at breakfast. Everyone wants to have one in January.  A tentative date of January 11 was set. More information will follow after Christmas.
We enjoyed having everyone get together. — Linda Ingalls & Patty Supancic
Missing Classmates
If you have contact information any of the following classmates please send via e-mail to lhsclass61@gmail.com.
| | | | | |
| --- | --- | --- | --- | --- |
| | Joan Andrews Crane | Diana Hastings Sparks | Robert Osborn | |
| | Shelia Conn Forman | Lilian Hector | Dainis Volgasts | |
| | Wayne Duncan | Jerry Jones | Mike Wagner | |
| | Margaret Eaton Stallknecht | Linda Sue Kramer Houston | James Wortham | |
| | Mike Graves | Jack Nash | Beverly Knackstedt Wiggins | |