Andy Boyd 1943-2020

Jan. 7, 2020 — Andy Cotton Boyd died on January 3, 2020 at his farm in Ottawa, KS two weeks before his 77th birthday.
HERE for his obituary. 
Brooke Beauchamp 1943-2018
July 6, 2019 — Brooke Beauchamp was born on September 29, 1943 and passed away on Friday, March 23, 2018. Brooke was a resident of Missouri at the time of passing.
Everrett Lee Martin 1943-2019
Everett Lee Martin past away Jan. 6 2019 in Casa Grande Az. He and his father had the welding and machine shop in North Lawrence in the building behind Lee's Camper Sales 950 N 3rd street.
HERE for his obituary.

Memory book

Just a reminder that we have the books available. Cost is $10 (includes shipping). Make checks payable to LHS Class of 1961. Mail to Bob Duver, 1256 North 900 Rd., Lawrence, KS 66047.

Photos from the Reunion: Saturday Night


Roger Underwood on left, Andy Boyd on the right.

Photos from the Reunion: Tour of Cordley
Ward Russell now retired from filmmaking career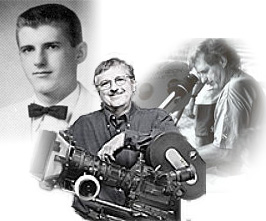 Nov. 19, 2015 — Our classmate Ward Russell worked in film for over 30 years. Among the directors he collaborated with are Tony Scott and Tim Burton. His film work includes 'Days of Thunder' and 'The Last Boy Scout'. He now lives in Santa Fe, New Mexico where he specializes in still photography.
HERE for an article from 2010 about his film career.
Class of '61 Lady's Breakfast Group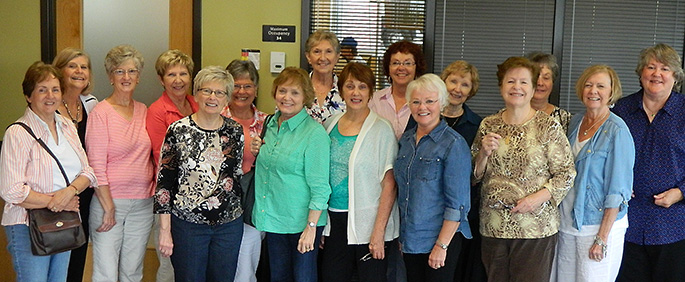 Front Row: LeeAnn Duver (Bob Duver's Wife), Louise Herschel Howard, Linda Patterson Harding, DeDe Allen Dresser, Judy Dennis Gardner, Linda Midyett Campbell, Kathy White Alkouski, Karen Kerr Horne. Back Row: Linda DeHoff Ingalls, Phyllis Anderson Norris, Becky McArthur McMilllan, Sandra Kelley Reed, Kathy Houk Shook, Vicki Emick Howell, Patty Atkinson Supancic, Carol Olson Gardiner/Winters.
We had a total of 19 attend. We were so pleased to have LeeAnn Duver join us — she has been such a gracious hostess to our class.  Two had to leave so aren't in picture. They are Helen Babbitt O'Trimble & Carol Rose. Several responded that couldn't come so we read their responses at breakfast. Everyone wants to have one in January.  A tentative date of January 11 was set. More information will follow after Christmas.
We enjoyed having everyone get together. — Linda Ingalls & Patty Supancic
Missing Classmates
If you have contact information any of the following classmates please send via e-mail to lhsclass61@gmail.com.
| | | | | |
| --- | --- | --- | --- | --- |
| | Joan Andrews Crane | Diana Hastings Sparks | Robert Osborn | |
| | Shelia Conn Forman | Lilian Hector | Dainis Volgasts | |
| | Wayne Duncan | Jerry Jones | Mike Wagner | |
| | Margaret Eaton Stallknecht | Linda Sue Kramer Houston | James Wortham | |
| | Mike Graves | Jack Nash | Beverly Knackstedt Wiggins | |