Claudette Peters Garen 1943-2022

May 10, 2022 — I regret to inform you that Claudette passed away on May 5th. Our sympathies go out to her children Gail and Barry.  Her husband Frank passed away earlier.
HERE for her obituary.
Gloria Marie Kennedy Leonhard 1942-2022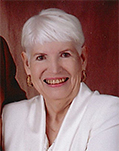 Sorry to report that Gloria passed away Jan.30,2022. Our sympathies go out to Gloria's friends and family. HERE for her obituary.
History of LHS
October 11, 2021 — Lawrence High School has a rich and proud heritage. Its history is one of excellence in academics and extracurricular activities.
HERE to download a pdf of "The History of Lawrence High School" from the Lawrence High School Web site.
60th Reunion Canceled
August 26, 2021 — First of all, thank you so much for those who responded to the Reunion Letter. The response was very light. We have decided that this is not the right time to have the reunion. Hopefully, we can reschedule the reunion for as early as next spring. In the mean time, if you want to come to Lawrence in the future and want a little "meet and greet", let me know and I can probably arrange it. — Rich Noever
Photo From Our 50th Reunion
Jan. 29, 2020 — More photos can be found at the "Reunions" tab above.
Bottom row:
Jane Tustin, Fred Bramble, Mary Kay Dunlap Lanning, Linda Garcia Rice, Susan Ulmer Snyderman, WynneGoff Brochu, Becky McArthur McMillen, Evelyn Fearing Dvorak, Jim Kring
Jan Loofborrow Richardson, Karen Groh Tesla, Patricia Nease Dix, Grace Roberman Ellis, Bennie Ruth Grewing Gilbert, Sandra Hayes Shawhan, Byron Leonard
Diane Lefholz Kennedy, Rudy Oberzan (Deceased), Roger Underwood, Richard Calvert (Deceased), Connie Carlson Dewey, Gary Knight,
Glen Elliott, Kathe White Alkoudsi, Kathy Dennis Donatelli, Sharon Moon Peine, Linda Midyett Campbell,
Suzanne Mills, Janet Heck Kittlaus, Carol Olson Gardinier,
Sam Garland, Judy Mckinney Pierson, Bob Asher, Larry Colburn, Andy Boyd (Deceased), Larry Stemmerman,
Bernard Kennedy, Luey Bornheim (Deceased), Martin Owens Brian Schweda, Duane Rice, Sam Pugh, Ken Hopkins, Judith Nelson Greer,
Dede Allen Dresser, Carolyn Rogers Buchanan, Joe Oberzan, Cathy Bowman Shuck, Robbie Johnson, Cathy Houk Shook, Judy Dennis Gardner, Patty Palmateer Horton, Norman Puckett, Carol Lemon Burnett, Dale Schneider,
Rich Noever, Joan Oswald Crow, Sanda Smith Crandall, Pat Rappard Linnhoff, Bob Duver, Linda Dehoff Ingalls,
Linda Patterson Harding, Roland Bell, Beck y Frakes Hermann, Patty Atkinson Supancic, Martha White, Judy Kleinberg Harmony, George Osborne
Robert Kimball, Bob Morgan, Gene Shaughnessy, Frank Molby, David Steele (Deceased), Bill Merkel (Deceased), Fred Hartman, Stan Hanson, David Burnett, Jerry Thomas, Carol Rose, Jack Mahoney, Duane Vann

Memory book

Just a reminder that we have the books available. Cost is $10 (includes shipping). Make checks payable to LHS Class of 1961. Mail to Bob Duver, 1256 North 900 Rd., Lawrence, KS 66047.

Photos from the Reunion: Saturday Night


Roger Underwood on left, Andy Boyd on the right.

Photos from the Reunion: Tour of Cordley
Missing Classmates
If you have contact information any of the following classmates please send via e-mail to lhsclass61@gmail.com.
| | | | | |
| --- | --- | --- | --- | --- |
| | Joan Andrews Crane | Diana Hastings Sparks | Robert Osborn | |
| | Shelia Conn Forman | Lilian Hector | Dainis Volgasts | |
| | Wayne Duncan | Jerry Jones | Mike Wagner | |
| | Margaret Eaton Stallknecht | Linda Sue Kramer Houston | James Wortham | |
| | Mike Graves | Jack Nash | Beverly Knackstedt Wiggins | |